Seal Rings
Precision rings, inc. is a custom manufacturer of seal rings. All metallic rings whether they are classified as piston rings or seal rings have some amount of leakage. A seal ring has better sealing capabilities than a piston ring. Typically, a seal ring is used in applications where leakage is critical. Types of seal rings include, but are not limited to, two piece and three piece ring assemblies. Piston rings are used when leakage is not as critical. When the ring is seated due to a differential in pressure, flow across the ring is restricted but not eliminated.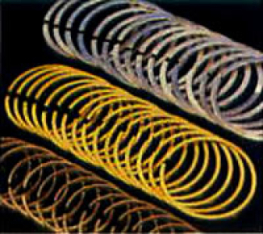 Please visit the Rings page in order to compare different ring types. Various ring combinations can be used in order to help reduce or eliminate leakage. Precision manufactures seal rings out of several different types of materials. Please visit our materials page to see a list of the most common types of materials used to manufacture seal rings. Contact Precisions' engineering department at priengineering@precisionrings.com or call 317-247-4786 to inquire about a specific material not listed or with any questions regarding seal rings and their uses. Seal and piston ring design time is typically less than 5 business days. Precision rings looks forward to providing you a sealing solution!
Contact us today to find out why we are a leader as a custom manufacturer of seal rings.